The InfoKat catalog is a great place to start for locating books within the UK Libraries collection. When you use the default Books+ search box on the center of the Libraries homepage, you're executing an InfoKat search.
While the basic keyword search will usually return acceptable results, there are ways to target specific topics and discover better sources.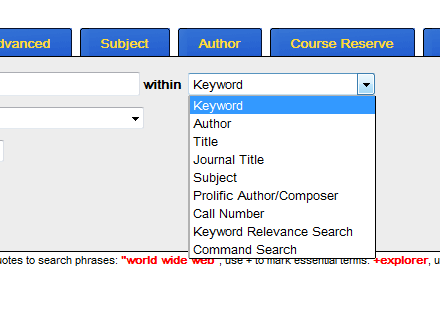 Subject searching:The Library of Congress maintains a master list of subject headings and assign these to books based on their content. Books about opera will typically be associated with the "Opera" subject heading. Be sure to use the singular form of the word if you're looking for books about opera. The plural form, "Operas," is associated with musical scores.
Author searching:Try an author search if you're looking to access the body of work of a specific composer. Examples: "Mozart, Wolfgang" or "Adams, John"
Title searching:If you're looking for a particular opera, try a title search. Examples: "Nixon in China" or "Gotterdammerung"
Here's a section of a screen shot from a search result: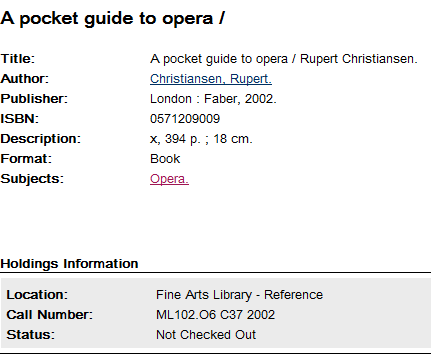 The information in the gray area describes the book's physical location. In this case, it's at the Fine Arts Library in the Reference section. The call number is ML102.O6 C37 2002.
Library and Catalog Sites
Search tip:
Sample Subject Headings
Opera
Opera - Encyclopedias
Opera - France - 19th Century
Opera - Production and Direction
Opera companies - United States - Directories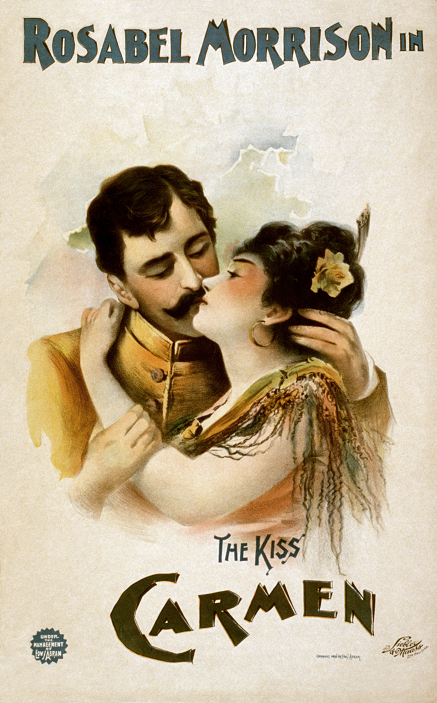 Search tip:
Music-related Call Number Classes
M: Music (scores)
ML: Music literature
MT: Music teaching